Are you a die-hard Saskatchewan Roughriders fan eagerly counting down the days to catch every thrilling moment of the Saskatchewan Roughriders Schedule 2023? Look no further! Beaver River TV brings you the ultimate solution to stay in the game and never miss a single touchdown, tackle, or triumphant victory. With our cutting-edge TV streaming service, you can now experience the electrifying action of the Roughriders' upcoming season right from the comfort of your home, without any hassle or interruption.
[ez_toc]

As the new football season approaches, it's time to gear up and get ready for an adrenaline-pumping ride with your beloved team. Beaver River TV is your go-to destination for streaming all the exciting games of the Saskatchewan Roughriders.
A peek at the Saskatchewan Roughriders' Schedule for 2023 is posted at the end of this blog.
Why Choose Beaver River TV?
With no contracts, no limits, and a fraction of the average cable TV price, Beaver River TV offers you unparalleled flexibility and affordability. Say goodbye to hidden fees and secret charges, and say hello to a world of endless entertainment options.
With Beaver River TV, you can stream your favourite shows and movies without any restrictions. Whether it's binge-watching your favourite series or discovering new content, there are no limits to how much you can enjoy. And the best part? You can install Beaver River TV on up to three TVs in your home, ensuring that everyone in your household can access their preferred entertainment on their own terms.
Experience the freedom of Beaver River TV's transparent pricing. There are no hidden fees or secret charges. Enjoy a vast array of channels, on-demand content, and exclusive features, all at a fraction of the cost you'd expect from cable TV. Say hello to a new era of affordable, contract-free streaming with Beaver River TV.
Beaver River TV Packages Available

Signing up for Beaver River TV is quick and easy. Give us a call at 1-306-450-3240 and our customer service team will guide you through the process or you can also sign up online. Just visit our website https://beaverriver.ca/beaver-river-tv/. We've made it hassle-free, so you can start streaming the Roughriders games in no time.
Saskatchewan Roughriders Schedule 2023
As promised, here is a glimpse of when the Saskatchewan Roughriders are playing in 2023: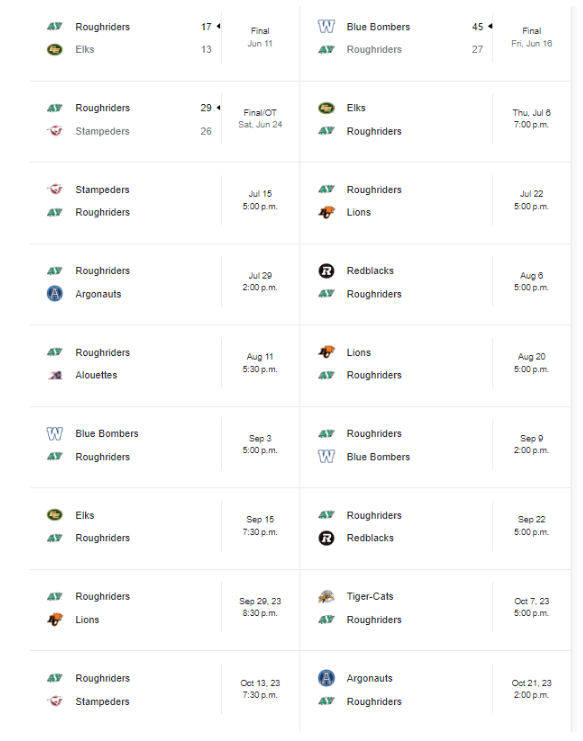 Prepare to passionately support your favourite team with our Skinny Plus TSN package along with other sports shows for just $59.95 per month. This is a game-changer for fans seeking high-quality streaming and staying up-to-date with their beloved team. It's a game-changer for fans who crave high-quality streaming and want to stay up-to-date with their beloved team.